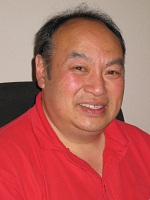 30 September, 2013
Presidents Report September 2013
---
Hoping you are all avoiding the winter chills and ills.
Thank you to all those members that have supported our activities during the year. We try our best to provide a number of 
benefits for you and it is always a pleasure for us to see you attend or participate in our functions.
I'd like to extend a warm welcome to Victoria Lui who joins our committee to help us achieve our goals.
Planning for the Annual Sports and Cultural Tournament 2014 in Wellington continues, as well as planning for the South 
Island Basketball Tournament which will be held in Dunedin on 28th and 29th of September.
The Annual August Camp was another great success with our youth members spending 2 nights at Berwick Camp. This is OSCA's 
equivalent to the NZCA Leadership Camp where our youth group learn teamwork, problem solving, and are mentored in 
leadership in a fun environment.
We have two teams playing basketball in local competition and this is mainly sponsored by OSCA. We believe that 
participation in sport is a valuable addition to a person's life skills along with academic, leadership, and social skills.
2 members of OSCA have been successful in gaining NZCA Academic Awards. This is an excellent result since there are only 
about 7 awards available nationwide, so well done to our applicants.
Our Lion Dance Team continues to be in high demand for various events around Dunedin. The committee appreciates the time 
and effort these members put into their activities. We had a small group in Christchurch for a weekend of performances and 
training in August. The team are also planning to purchase more Lion Heads due to general wear and tear. Donations towards 
their purchase will be gratefully accepted.
A delegation of OSCA committee members attended the NZCA AGM and participated in activities which will guide us on a 
national basis.
Don't forget to support our August Moon Dinner which will be held on the 21st September.
Please don't hesitate to let a committee member know if you have a particular project you would like OSCA to support. We 
are open to anything which falls within the boundaries of our charter.
Thank You.
Linus Chin
President