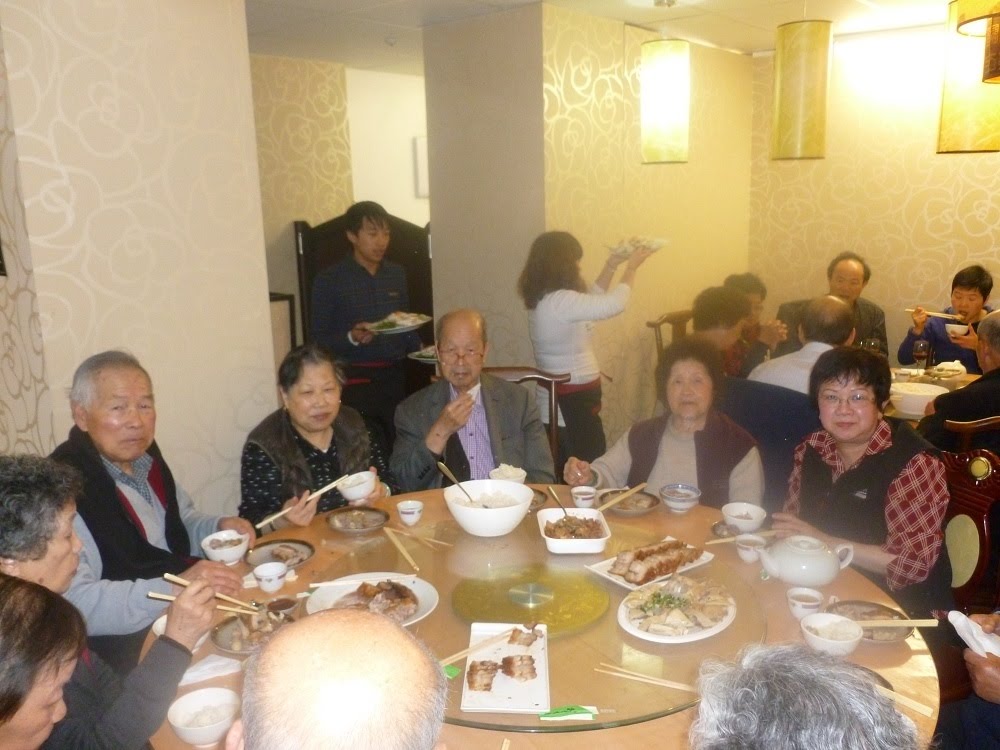 11 November, 2014
---
Seniors Event - Dinner and Games Evening at Shangri La
By Gordon Wong
Tuesday 11 November 2014
Shangri La Restaurant, 160 King Edward Street, South Dunedin
---
On a fine Tuesday evening, November 11th, 67 people attended dinner at the Shangri La Restaurant, the majority of whom had attended the previous dinner 5 months ago. However we did manage again to bring some more dear old friends out of the woodwork to meet people they had not seen for many years.
The dinner was once again organised by Mrs Wai Lin Wong with young and dynamic Shangri La restaurateur Jason Loo. Mrs Wong provided the Free Range Bak Jarm Gai while the restaurant chefs provided the other 9 dishes. It was a joyous and noisy affair as is the way with largely Cantonese attendees along with a few Mandarin and English speakers (as a primary language).
Prior to dinner, Mrs Wong spoke in Cantonese about earlier days of the Chinese Association. Mrs Wong's son Gordon, a current committee member and the writer of this article, loosely translated the speech into English and also talked about the following events:
In an effort to keep in touch with senior members of the community, from 2015, membership for people over 70 years of age will be free of charge. Honesty regarding ones age will prevail.

In Easter 2015 the New Zealand Chinese Association Annual Sports Tournament will be held in Dunedin.
Following dinner, a large proportion of the attendees retired to populate 9 mah jong tables. Ironically, although mah jong is considered a noisy game, the atmosphere was much quieter than during the dinner. Supper for the players was once again sponsored by the Association.
Whole hearted thanks from the committee to Wai Lin Wong and Jason Loo. We'll be in touch again next year.
---